Few weeks ago, I have received an email from MailChimp which asked me to answer to a survey about my usage of their tools and my suggestions about ameliorating MailChimp's platform. In my opinion it is a great opportunity to participate to fix some problems in my daily usage of this great tool.
Working with segments
The first point is about working with segments. Maybe could it be possible to increase the number of slots available for segmentation, currently limited to 5. A second thing could be to provide the ability to use boolean operators between segments or between the groups of segments. By this way, I will be able to reduce the number of micro-campaigns sent in order to deal with all targets to send.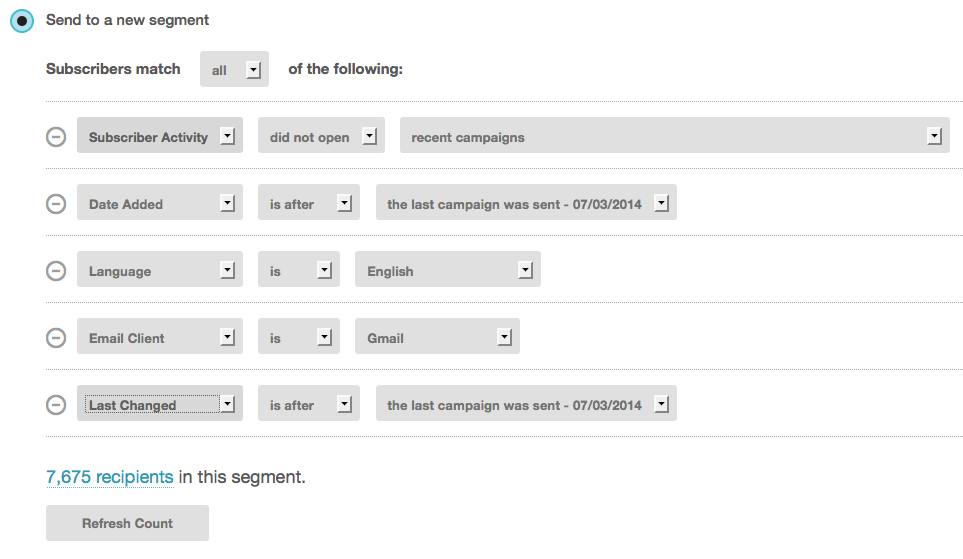 Lists for tests emails
During the conception of a campaign, I have to send many tests to my colleagues in order to check the compliance of content and design. The test's recipients are grouped in unique teams for each campaigns. A good solution to ameliorate the organisation of my work could be to save groups of recipient for sending my tests.
Ability to use OnStage with test campaigns
OnStage is a very useful tool but I don't understand why he stays fully separated from MailChimp platform. I imagine an interacting capability between the test send function and the review function included into OnStage. Actually I have to send emails to my team several times in order to ask them to check the received test and to answer to me with editing requests… The best way to do that would be a system where recipients of the tests emails can access to OnStage from the received test email and directly discuss and put editing requests into it.
Create a mail campaign with multi sends
I would like to speak about a set of sending, not only one. Explanations : actually, MailChimp manages each sending separately, as unique campaign, and not as group of sending. My idea consists to build a campaign with multiple cycles of sending (including non-opener and resends, specific templates per target, etc.). This system should provide better readability by managing campaigns grouped by operation.
Ability to unsubscribe from one segment or one interest
Actually, when some groups of interest are configured for a list, they can only be used to build segments for sending. But when a user unsubscribes of the received email, he is removed of the entire list. It is really annoying. The ability to manage what groups of interest you have opted in is not sufficient. The best way would be to provide a link to unsubscribe only of a group of interest without the necessity to manage the entire subscription.
Better smartphone preview
The mobile preview integrated in the popup preview is unusable. It could be better to show scale preview, depending supposed screen resolution or depending « displayport » parameters.  In place of the true display of a mobile campaign I only see my template overflowed to the right by a frame. I would prefer to show a responsive or scale reduced version of my design.
Better access to campaign render
When I use the function called "Run Inbox Inspection" I am redirected to a waiting page, but not at the preview of my rendering. It is a loss of time to have to navigate menus in order to access the rendering report. A second suggestion is to accelerate rendering if possible !
Analytics about account usage
Now, as analytics data, I can view my quantity of subscribers and how many emails that I have sent to them, but that's not enough to me 😉 I would like to watch timeline of monthly performance of sendings, subscribers and maybe unsubscribes, complaints, openings and clicks. Be able to evaluate long-term performance is really important to me.
Although these ideas could improve the usability of MailChimp, it is one of the best tools I have to use in my job. Thanks to MailChimp's staff to make sending emails easier everyday !