Various tools for web tv broadcasters and streaming professionals, including a realtime viewers discussion, polling, and questioning management suite (collect viewers questions and display them to you guests and speakers).
Live questions manager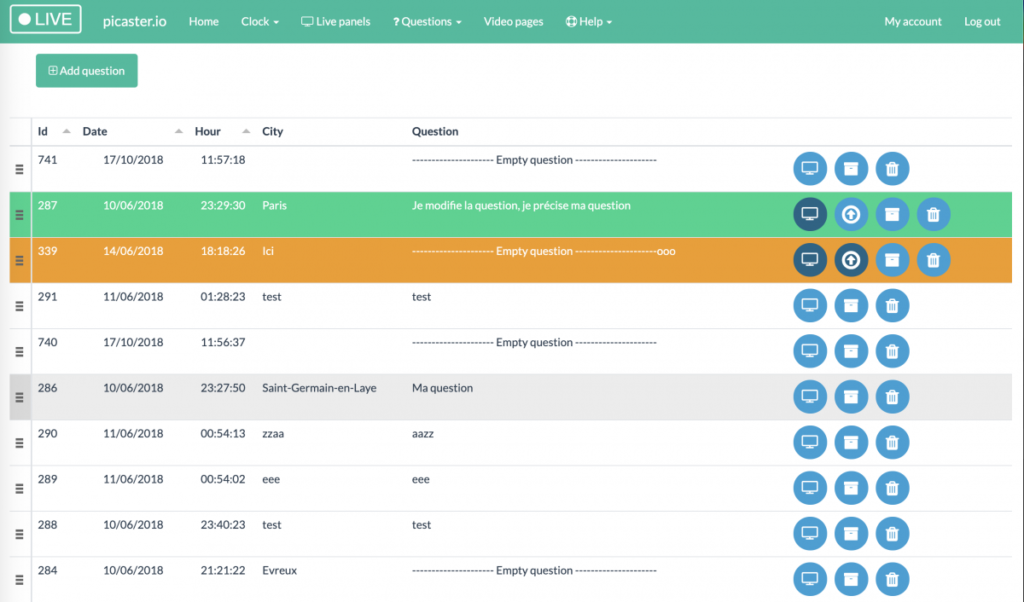 Live questions manager is our best selling tool. He is built to give you the ability to collect questions from viewers in realtime and to moderate them before to display selected questions to speakers directly on stage or in the studio during your live event. To achieve the goal to provide a fully realtime tool for live streaming context, we provide to our customers a pack of three tools working together :
– Question form: written in javascript, you can embed it on any webpages, iframe or popup. He is directly connected to our server, in order to collect viewers questions ond comments during a live event.
– Questions manager: you can see it as a air traffic control 😉 At this place, you can watch all new questions in realtime and decide to select, archive or delete it. You can directly add your own new questions or edit viewers questions by rewriting them. The last part of work consists to push a button to display selected questions on stage/studio live display. If a question is more important, you can directly highlight it on live display by pushing a button.
– Questions display:  this passive element of the workflow consists in a screen connected to our server and live showing questions selected in questions manager. The way the display looks like is fully customizable, background color, font size, number of questions to display and much more.
Please contact us to test Picaster platform.